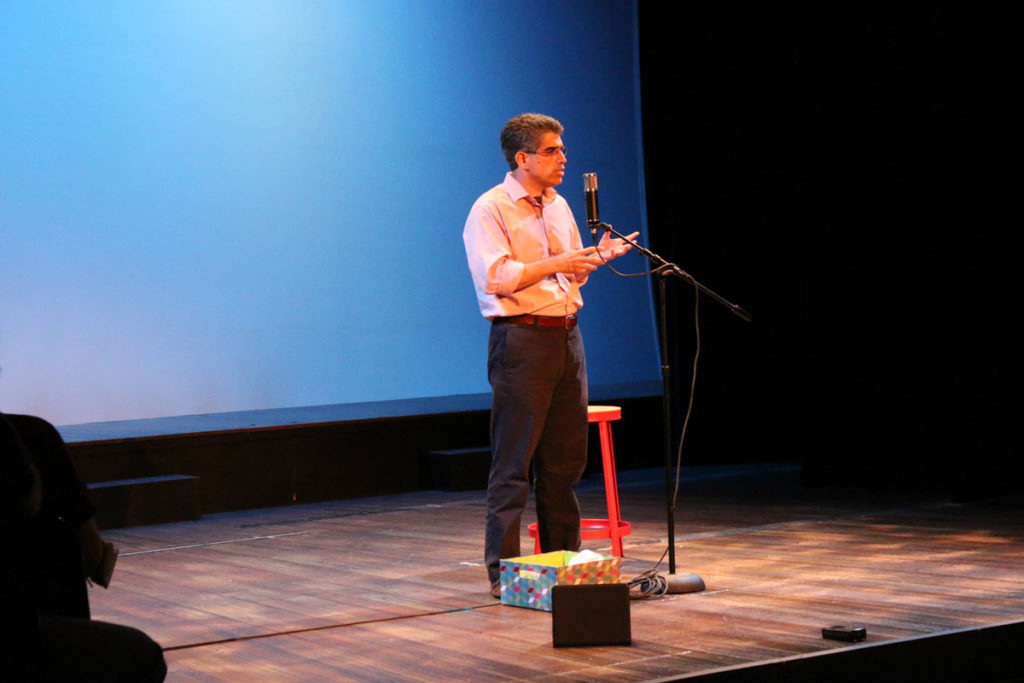 Have you ever played a video game in which you saw the world from the perspective of your character, and you wielded some type of gun or weapon to fend off enemies as you explored the world of the game? If you have played such a video game, congrats – you've enjoyed a technology that was born in Shreveport, Louisiana. At the June 2015 All Y'all live storytelling event "Brush With Fame," storyteller Stephen Vekovius shared the story of Softdisk and id Software, two game-changing companies that were born in downtown Shreveport. Softdisk was an early pioneer in the rapidly-changing world of software publication, and several Softdisk employees went on to form id Software, a company that revolutionized video games and 3-D technology with such titles as Wolfenstein and Doom.
This story – which has seldom been told publicly – is made even more special by the fact that Vekovius experienced all of this as the son of Softdisk's Co-Founder and CEO, Al Vekovius. Stephen's perspective gives the story a quiet and powerful intimacy that wowed the audience at "Brush With Fame." All Y'all is proud to have played a role in documenting this little-known chapter in the history of Shreveport, Louisiana's on-again, off-again relationship with the entertainment industry.
Want to learn more about Softdisk and "the id Boys" while supporting All Y'all?
Purchase the 2003 book Masters of Doom: How Two Guys Created an Empire and Transformed Pop Culture by David Kushner using the link below, and All Y'all will receive a portion of proceeds from the sale.
Please Support These All Y'all Sponsors
The 2015 season of All Y'all live events and podcasts is sponsored by Holiday Lanes, an incredible bowling center in Bossier City that features everything from glow-in-the-dark bowling to the largest plate of nachos you'll ever lay eyes on. The All Y'all podcast is also sponsored by Maccentric, Shreveport-Bossier's only locally owned Apple Authorized Service Provider. From the very beginning, we've also been sponsored by Rhino Coffee and Twisted Root Burger Company, two places that we love. Please consider supporting these businesses when you're out and about.
Thanks for listening, y'all. If you enjoyed this podcast, please share it!