In September of 2014, All Y'all hosted our fourth live storytelling event, "Under the Influence." The night was a fundraiser benefiting the Council on Alcoholism and Drug Abuse of Northwest Louisiana, and featured a variety of perspectives on addiction, medicine and other powerful forces. "Under the Influence" storyteller Lucas Ridley shared the intensely emotional tale of his personal experience surviving cancer with the assistance of medical marijuana.
In the best cases, stories told onstage at All Y'all events encourage audience members to reconsider their own deeply held beliefs. Lucas's story was one of those instances; several of those who attended "Under the Influence" later told us that his story changed their beliefs on the subject of medical marijuana. No matter where you stand on this issue, Lucas's story is a riveting listen.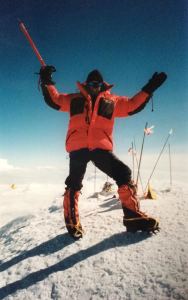 As it turns out, Lucas's life has involved a lot of difficult journeys. Not only has he climbed some of the highest mountains in the world, he is also a survivor of cancer as well as a survivor of domestic violence at the hands of his father. Lucas only recently broke his silence about overcoming domestic violence, in this blog post. In response to his father's ongoing persecution of his mother, Lucas is currently raising funds to benefit Barren River Area Safe Space, Inc., an emergency shelter where his mother sought refuge from his father in 2003. If this story touches you, All Y'all asks that you make a donation of any size in support of Lucas's fundraising campaign.
Thank you, Lucas, for standing up and speaking out.
Tickets now on sale for "All Y'all: OMG"
Tickets are now on sale for our next live storytelling event, "OMG," which will be held at 7 p.m. on Friday, August 28 at Sainte Terre (purchase tickets here). "OMG" will include six stories of personal encounters with faith, finding and losing God, and eye-opening encounters with the incomprehensible. We'll have a cash bar, live music and more. All net proceeds from "OMG" will benefit Renzi Education and Art Center.
A message from our sponsors
The 2015 season of All Y'all podcast episodes and live events is presented by our title sponsor, Holiday Lanes. If you enjoy bowling or just want to say "Thanks" to Holiday Lanes for making this podcast possible, please "Like" them on Facebook. Additional sponsorship for "OMG" is being provided by Sainte Terre, John E. Settle, Jr. – Attorney at Law, and SandysDance Center.
Podcast sponsors for the 2015 season of All Y'all are the good folks at Rhino Coffee and Twisted Root Burger Co., which happen to be two of our favorite local eateries – thank you, Rhino and Twisted Root!
If you enjoyed this episode, please "Like" All Y'all on Facebook.